EXPERIENCE THE DIFFERENCE
This brand new 2017 Dodge Viper ACR was recently in the shop for a variety of services including paint correction, Xpel clear bra installation and a ceramic coating application.
2017 Dodge Viper ACR
Xpel clear bra installation, Paint Correction and Ceramic Coating
Boston, MA
This 2017 Dodge Viper ACR is the last of its kind with 650 HP. All this horsepower produced from the 8.0 liter V10, coupled with the extreme aerodynamics kit and the massive rear wing, this car one of the most formidable track weapons on the market. Seeing as this Viper was going to see regular track duty, most of the car is going to be covered with XPEL clear bra paint protection film, then topped off with a ceramic coating,  This will protect the vehicle from debris kicking up at the track, while providing easy maintenance.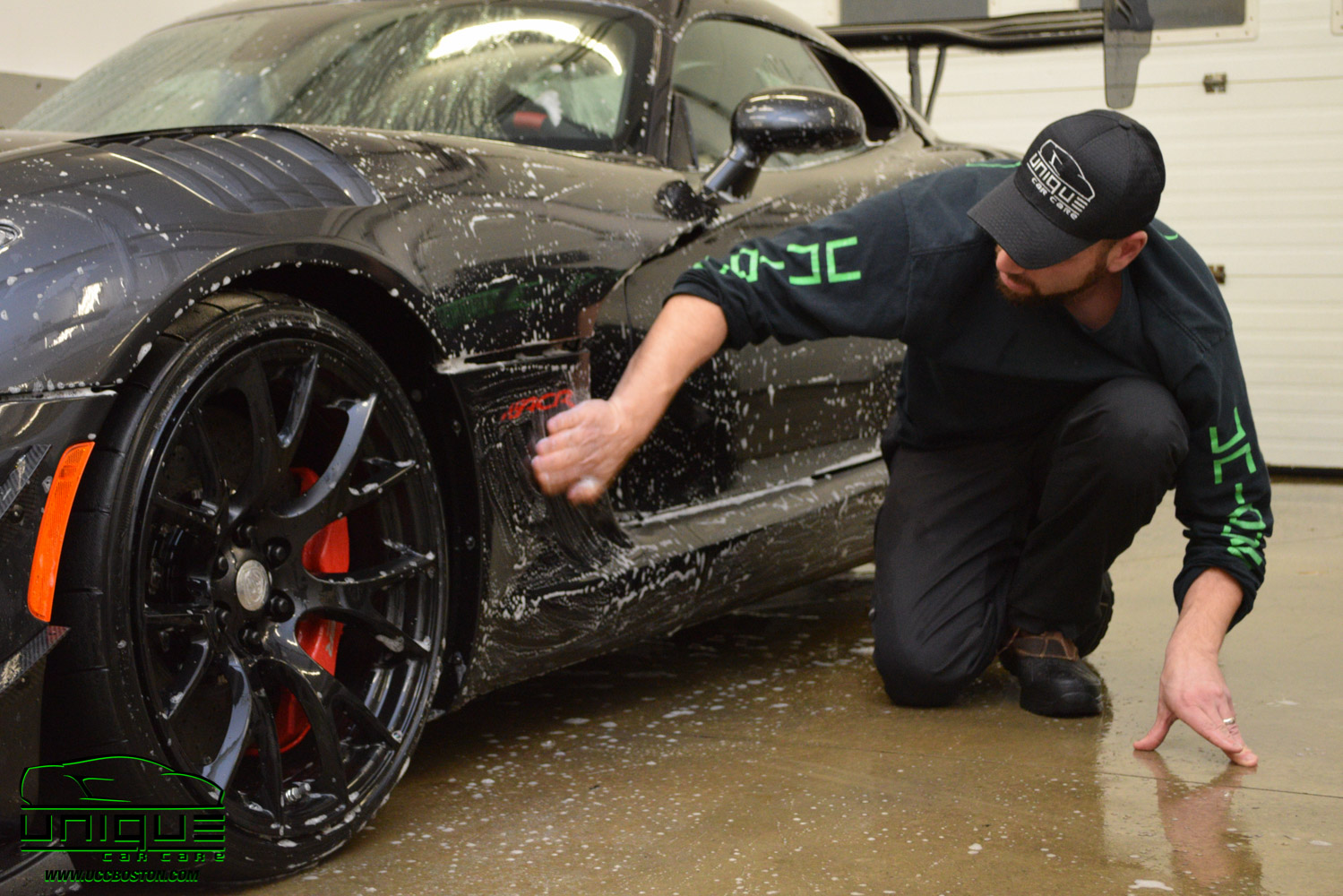 Before the Xpel clear bra install, we performed a hand wash, cleaned all wheels and tires, then prepped all areas being covered in film to ensure the film has a perfect surface to adhere to. The prep includes a claybar treatment (removes bonded contaminants from paint surface) and polishing using a dual action buffer to ensure the paint is free of any scratches, blemishes or swirl marks.
Ensuring that the paint surface is ready for the Xpel is key for a seamless install. The prep plays a huge roll in the overall process, since the film is optically clear and will show any defects or contamination that may be present underneath.
Once the prep was complete, it was time to get busy with the clear bra installation. The full front nose of the car, plus the rocker panels and all other high impact areas were covered as well. The unique size of the Vipers clamshell hood meant that we needed to use multiple pieces of Xpel film, seamed together in order to get 100% coverage.
All edges of the clear bra were trimmed ¼ inch long in order to wrap the edges around each panel for maximum coverage. By doing a fully custom install, it allows us to avoid any unnecessary seams, which can really detract from the overall quality of an install.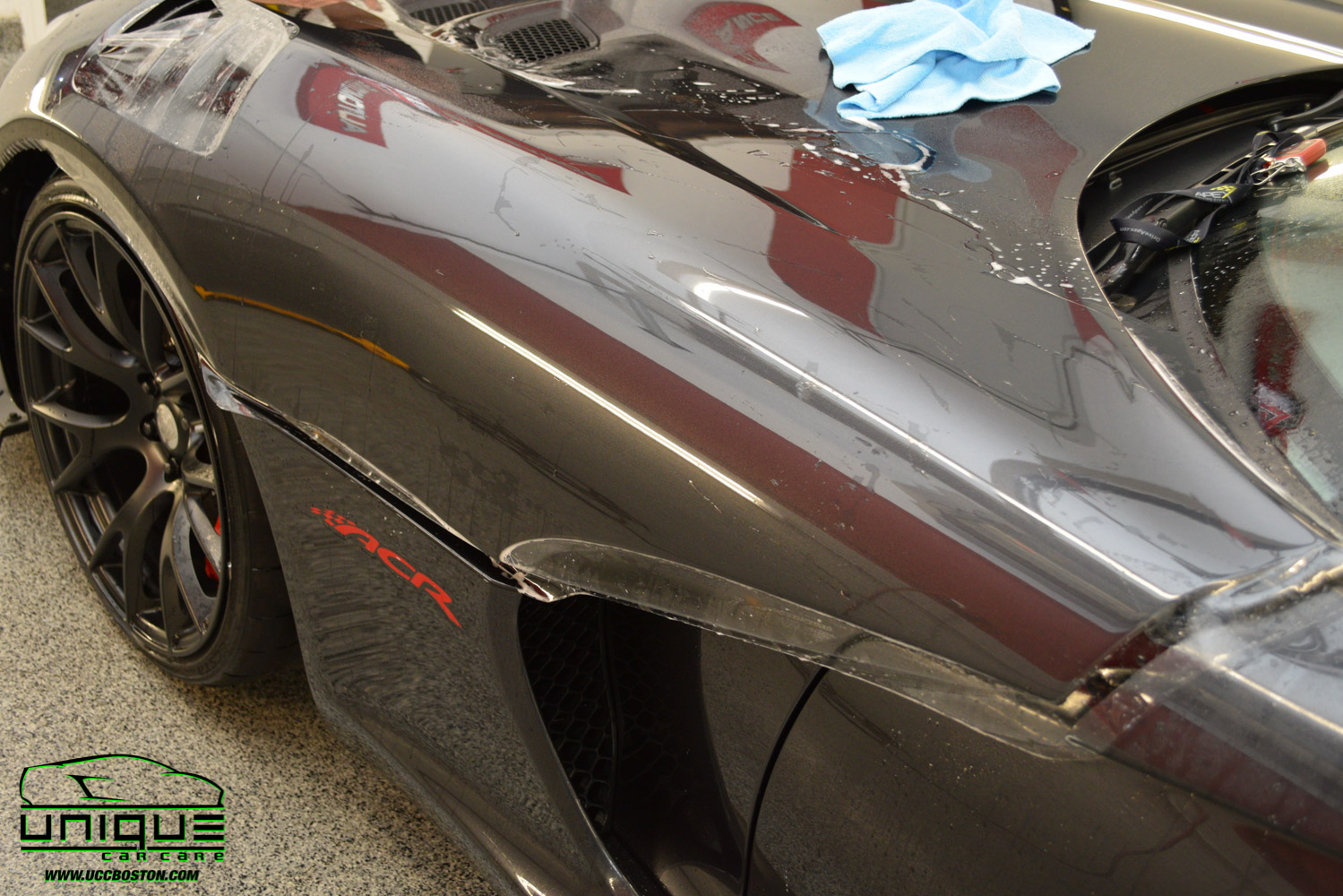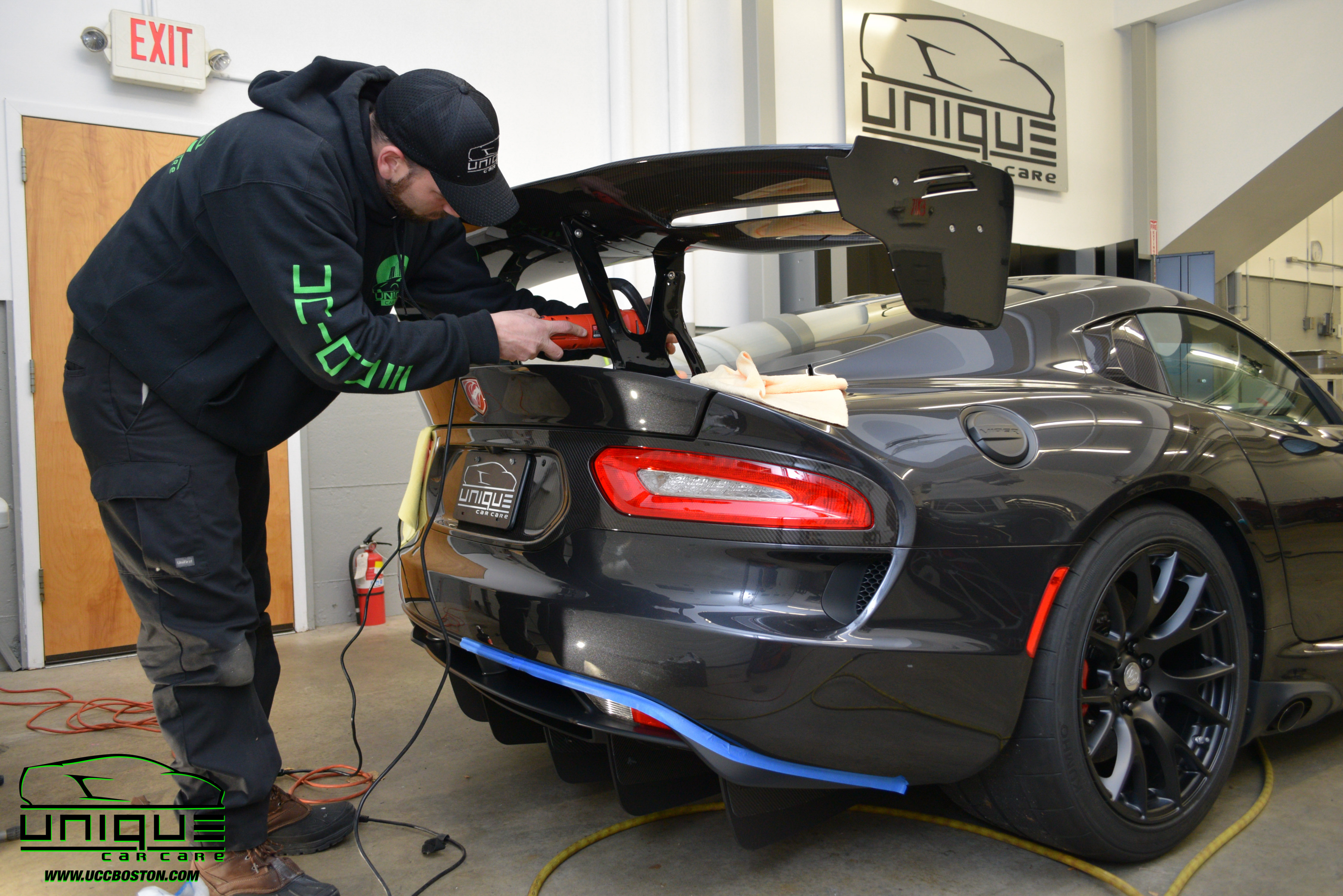 Even though the car was fairly new, we performed a one step paint correction to make sure that the paint surface was as perfect as possible before the clear bra and ceramic coating can be applied. This will remove light to medium scratches and blemishes, resulting in a swirl-free, high gloss finish.
We have spent many years dialing in our paint correction techniques, so we know how to approach almost any kind of paint. The Dodge Vipers are all hand painted and wet-sanded from the factory. Depending on what color and combination of stripes are chosen, a Viper can take up to 120 man hours to finish! The result is a paint surface that has virtually no texture, otherwise known as "orange peel"
Once the paint correction was complete, the entire car was wiped down with a prep-solvent in order to remove any oils or residue left from the polish. This ensures that the surface is clean and ready for the ceramic coating to be applied.
The ceramic coatings are superior to traditional wax in every way; it is an engineered coating that lasts several years when properly cared for and is far more resistant to harsh chemicals and road salts, all while providing a brilliant gloss and a super slick surface. Using a special applicator, the product is applied to all of the the paint surfaces, Xpel clear bra, plastic trim, glass and wheels. Once the coating has 'flashed', it is then buffed off with a brand new micro-fiber cloth.
As you can see, the coating really added to the gloss, depth and reflectivity to the car. Now this Viper will be sure to turn some heads!
If you have any questions, we'd be happy to tell you more, go over more options and discuss pricing. Please don't hesitate to contact us. We are available by phone or email to help any way we can.