EXPERIENCE THE DIFFERENCE
We had a brand new 2017 Acura NSX in the shop for a full vehicle wrap and a ceramic coating.
2017 Acura NSX – Full Vehicle Wrap – Ceramic Coating
Boston, MA
Earlier this year Acura resurrected the legendary NSX name after years of auto show concepts and spy photos on the 'Ring. With cutting edge styling and a new twin turbo V6 aided by not one or two, but three electric motors, the NSX has entered the 21st century of the supercar wars. The total output of the power plant is 573HP via all 4 wheels which many critics were not expecting. This is not the NSX you remember; this is the future.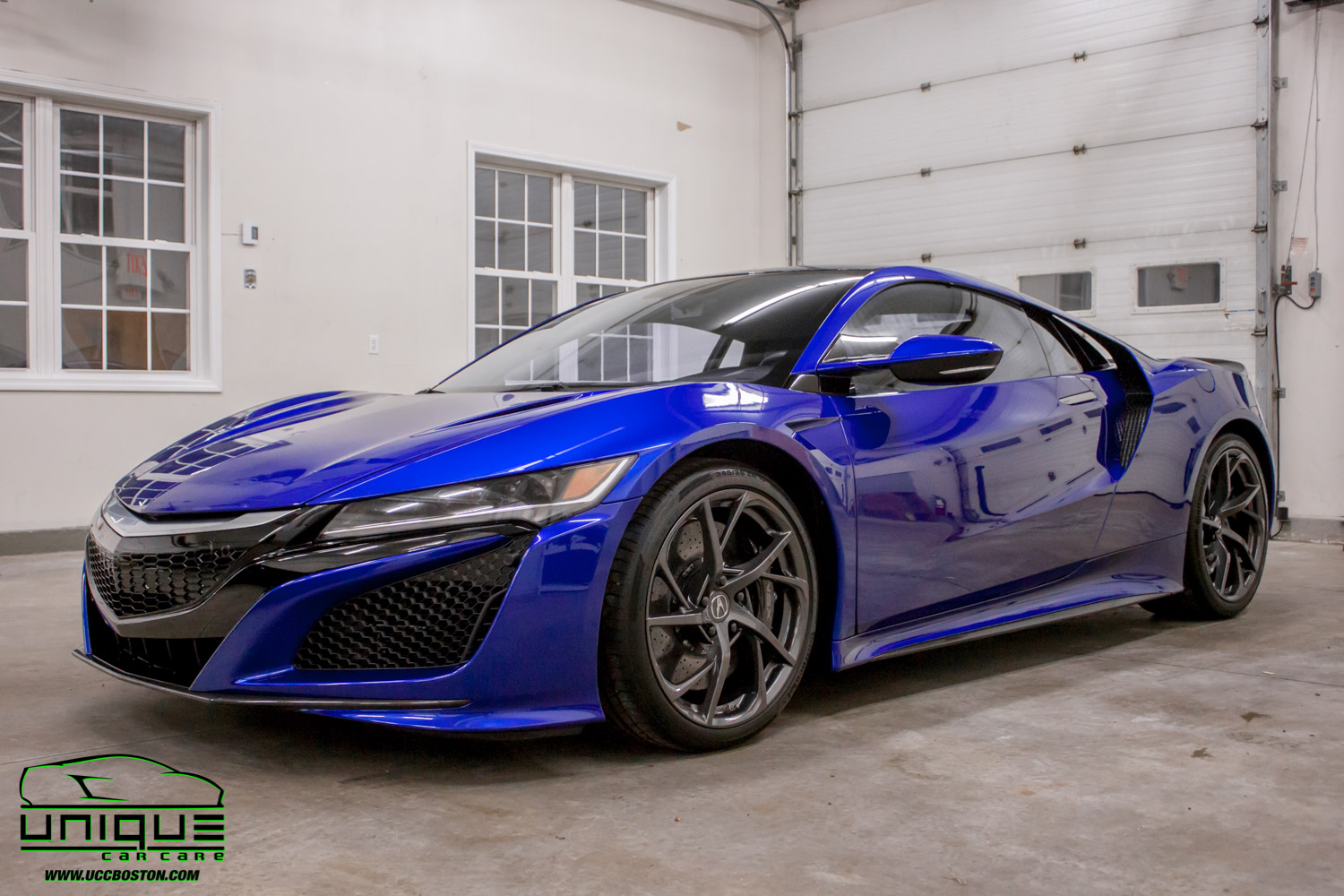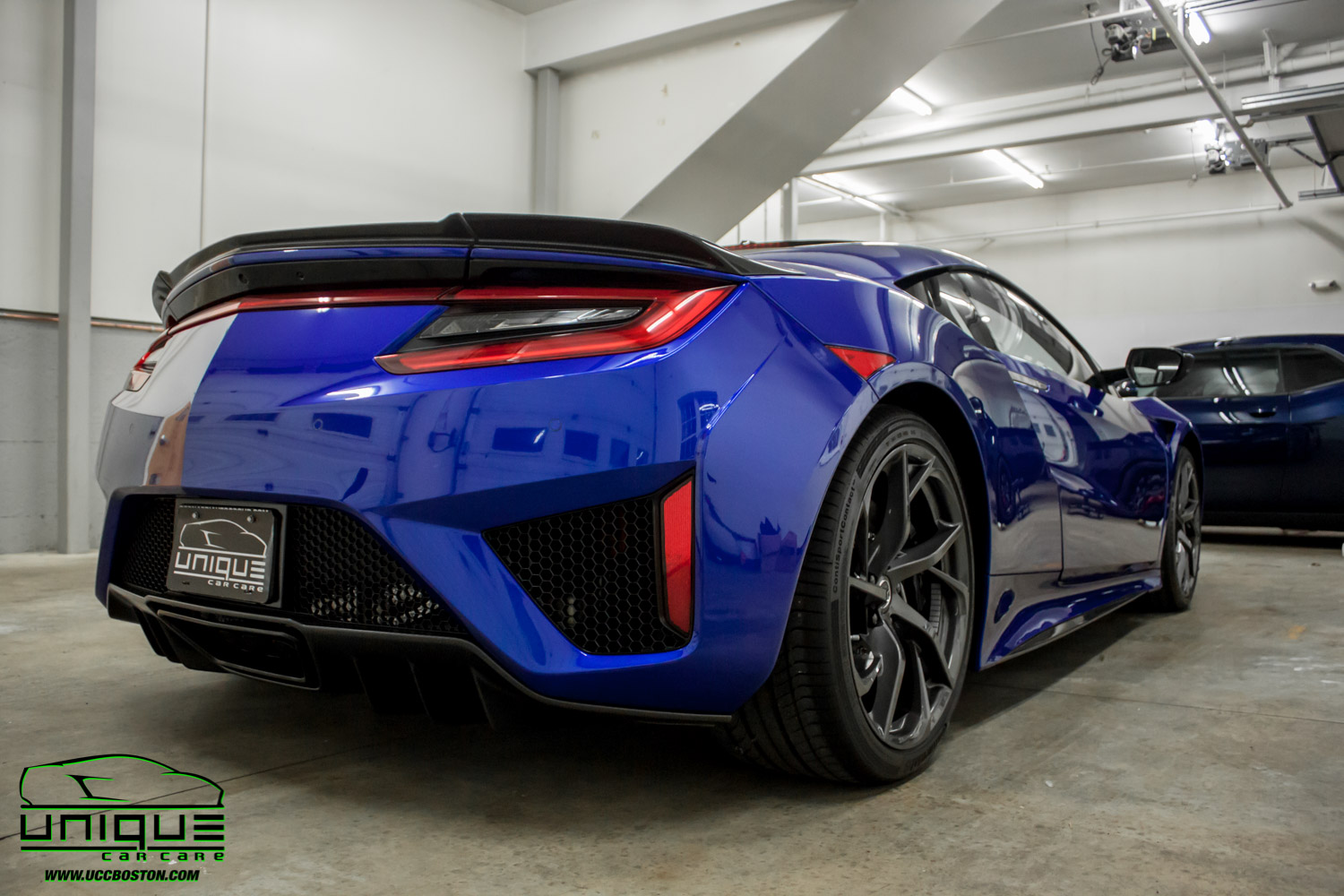 When this NSX arrived at our shop it was so new that this was the first NSX to have any XPEL paint protection film installed, this NSX is car #37 off the line.
After a quick call to XPEL corporate and an explanation of the situation we were delighted to find out that we would soon be joined by two XPEL representatives who would create the templates for the car by hand before sending them back to HQ to be digitized. Within only a few days our computer libraries had been updated with the brand new NSX templates; time to get busy.
Before the install, we performed a hand wash, cleaned all wheels and tires, then prepped all areas being covered in film to ensure the film has a perfect surface to adhere to. The prep includes a claybar treatment (removes bonded contaminants from paint surface) and polishing using a dual action buffer to ensure the paint is free of any scratches, blemishes or swirl marks.
When applying the film, any of the edges able to be wrapped were left ¼ inch long in order to wrap around the panel for maximum coverage. We achieve this by editing the files on the computer and enlarging the templates before cutting them. Wrapping edges and removing trim allows us to avoid any unnecessary seams, which can really detract from the overall quality of an install.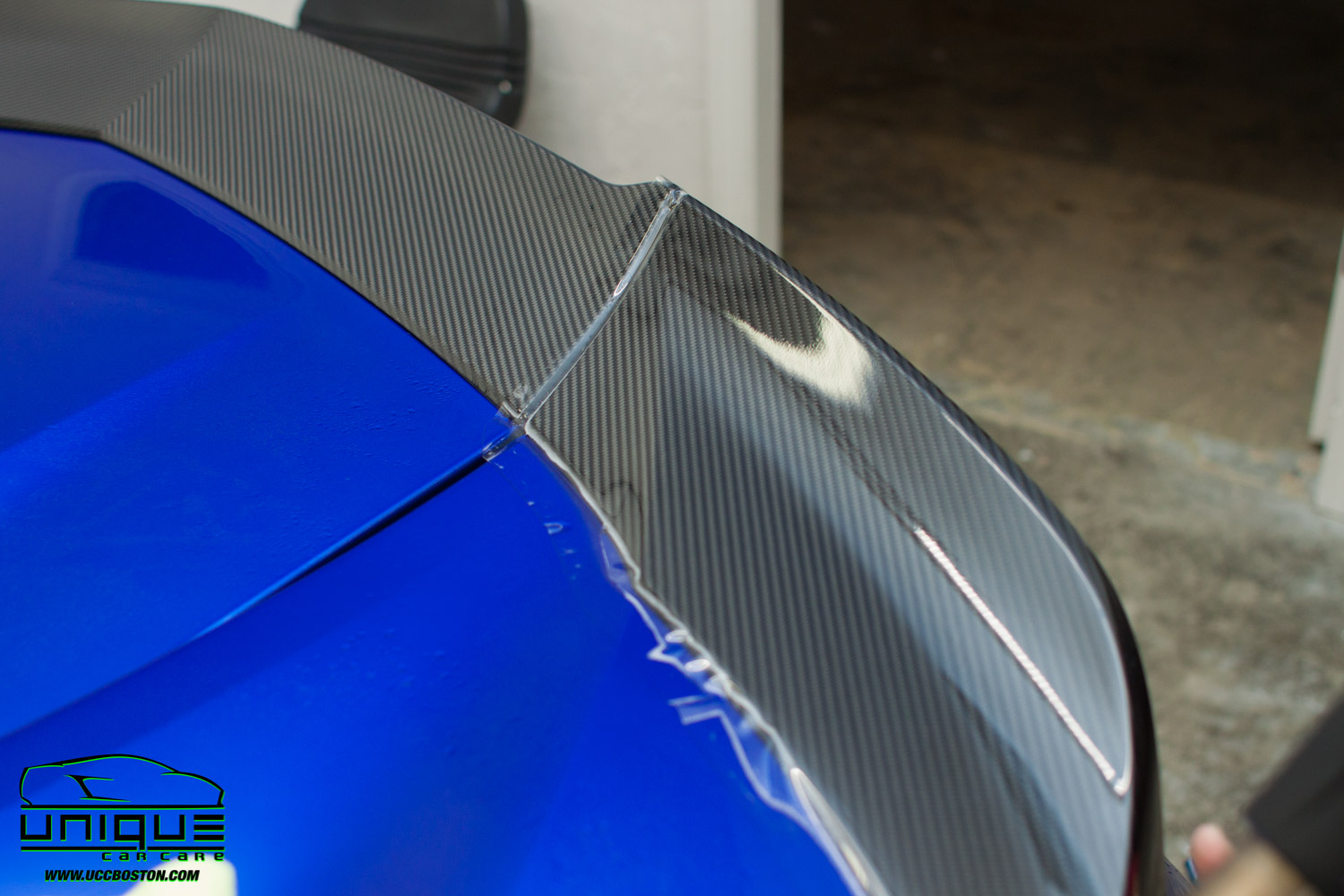 The NSX has matte carbon accents like the rear wing and trim. The owner of the car requested we wrap this in XPEL ultimate for a wet carbon look instead of the factory matte finish. Later we have learned that many people agree with his decision and think it looks great in gloss which also matches the roof.
Xpel Ultimate film was chosen for this install, which has great clarity, no orange peel and has a clearcoat topcoat. The best thing about the film is that is has self-healing properties if you happen to scratch it at some point. Any type of heat (sunlight, engine heat, hot water, etc. will promote the self healing and the scratches will disappear. It also has great UV protection and will not discolor, fade or get cloudy like other films on the market. Most films look great when first installed, but typically degrade not even a year later. This film is backed with a 10 year warranty.
After the install was complete, we wiped the car down with a special pre-solvent that removes any oils or residue to prepare the surface for the Ceramic Coating. The coating was applied to all the clear bra surfaces and wheels for maximum protection and durability.
The ceramic coatings are superior to traditional wax in every way. It is an engineered coating that last at least 2 years when properly cared for, is far more resistant and stable against harsh chemicals and road salts, and provides a brilliant gloss along with a super slick surface. Using a special application pad the product is applied to the paint, clear bra, and plastic trim and then buffed off with a brand new micro-fiber cloth.
The beautiful blue pearlescent paint had a radiant glow to it and the depth of the color was unreal; the paint looked soaking wet when dry.
If you have any questions, we'd be happy to tell you more, go over more options and discuss pricing. Please don't hesitate to contact us. We are available by phone or email to help any way we can.