EXPERIENCE THE DIFFERENCE
We performed a full three step paint correction on this classic 1972 Chevy C10 to restore the solid gloss black paint back to a mirror like shine.
1972 Chevy C10 Three Step Paint Correction

Boston, MA
We love classic American muscle cars and trucks around here and this 1972 Chevy C10 Resto-mod was no exception with its excellent stance and tasteful modifications. The solid gloss black paint however was in dire need of attention to really make this truck a head turner. In order to do so we needed to perform a three step paint correction.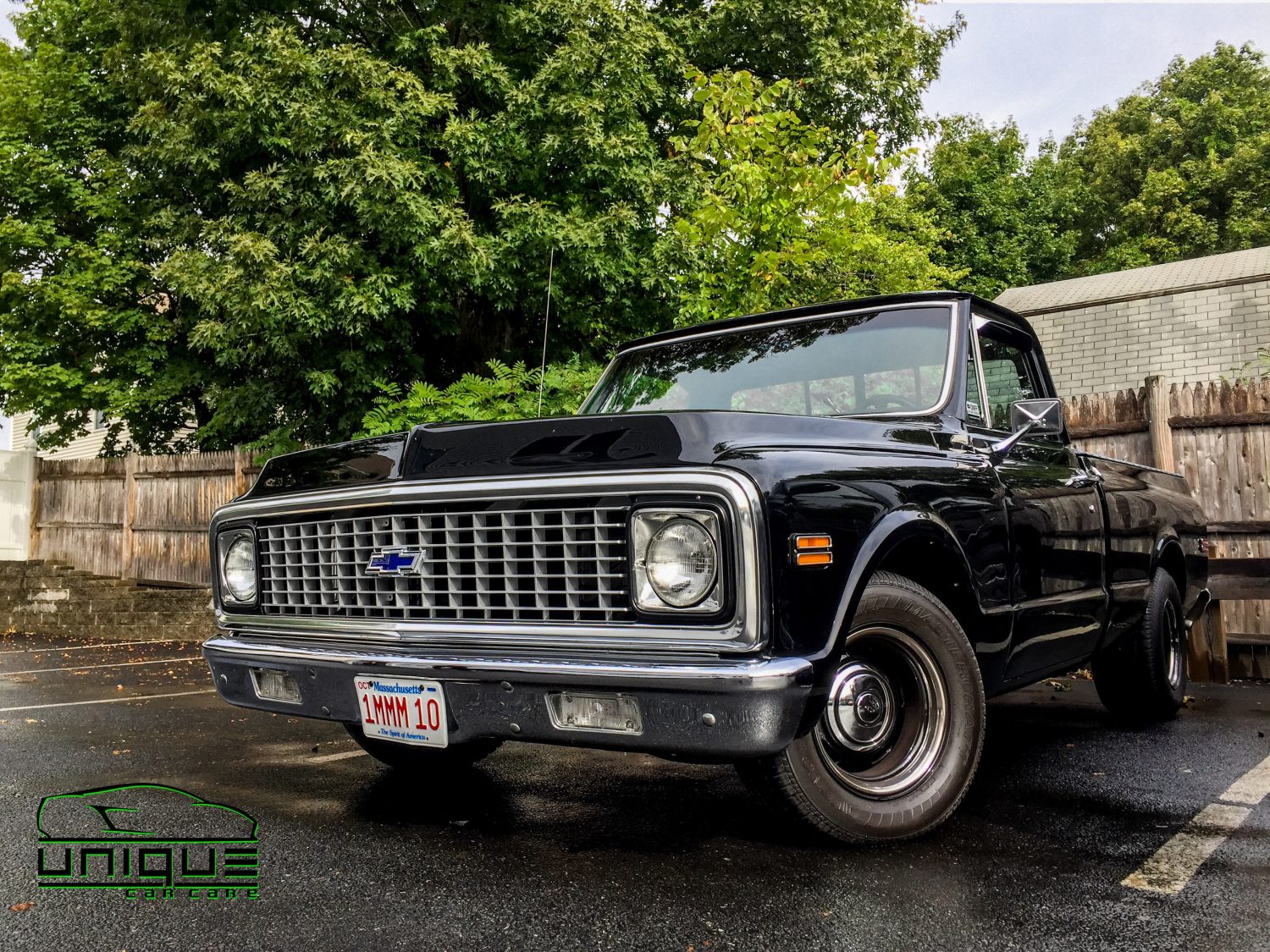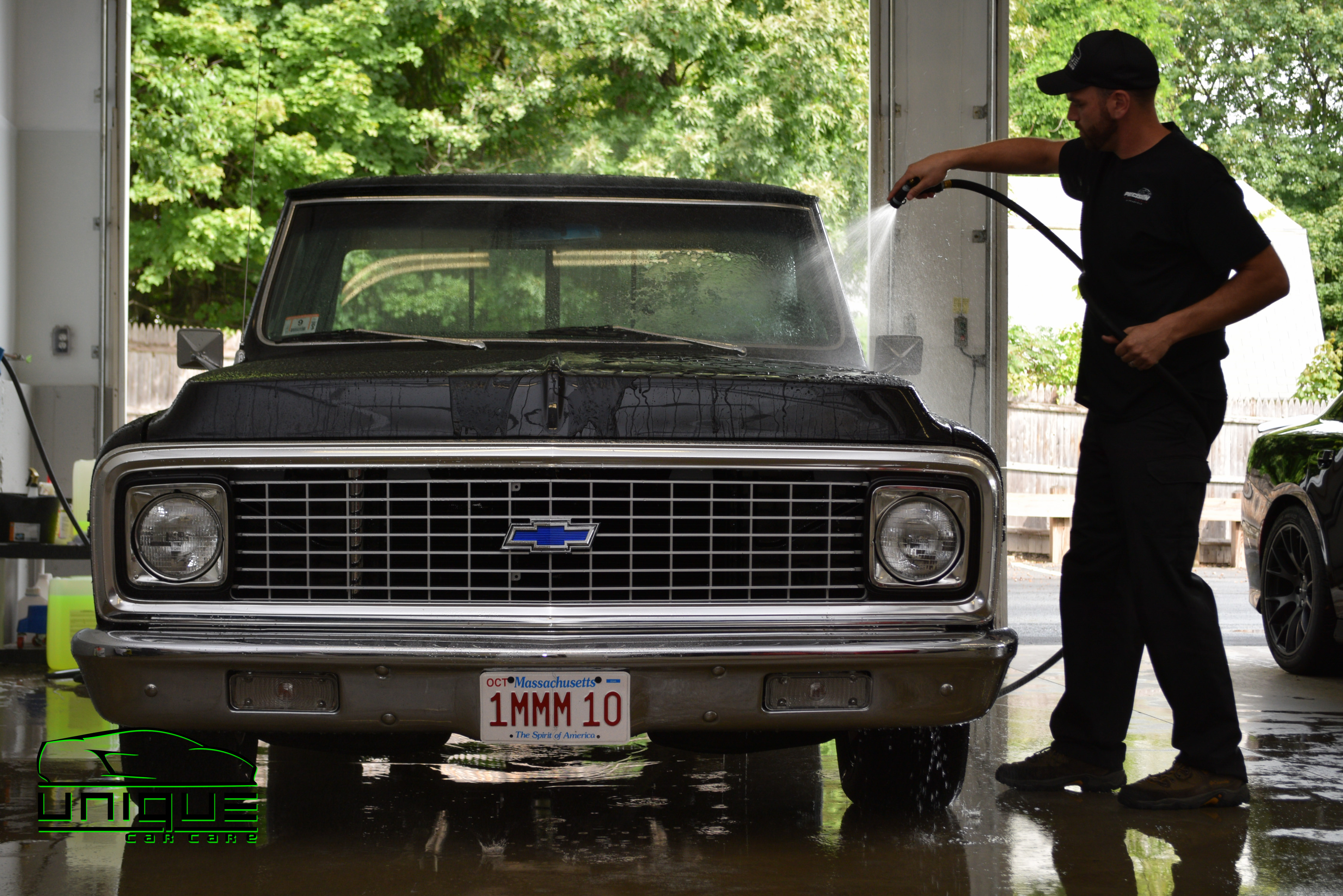 Before we can start our paint correction process, we performed a hand wash, cleaned all wheels and tires, and removed any existing wax or fillers on the paint with special degreasers. The prep includes a claybar treatment that removes bonded contaminants from paint surface leaving behind a smooth level surface to correct. Since Unique Car Care was rated one of the top detail shops in the nation, be assured that we go the extra mile when prepping the car for any job.
Once the prep was complete and the C10 was all dried off, it was time to remove any trim and tape off any rubber gaskets or plastic trim we couldn't remove.
As you can see here with our special lights the paint was in very rough shape. We use these lights through out the process to check our work.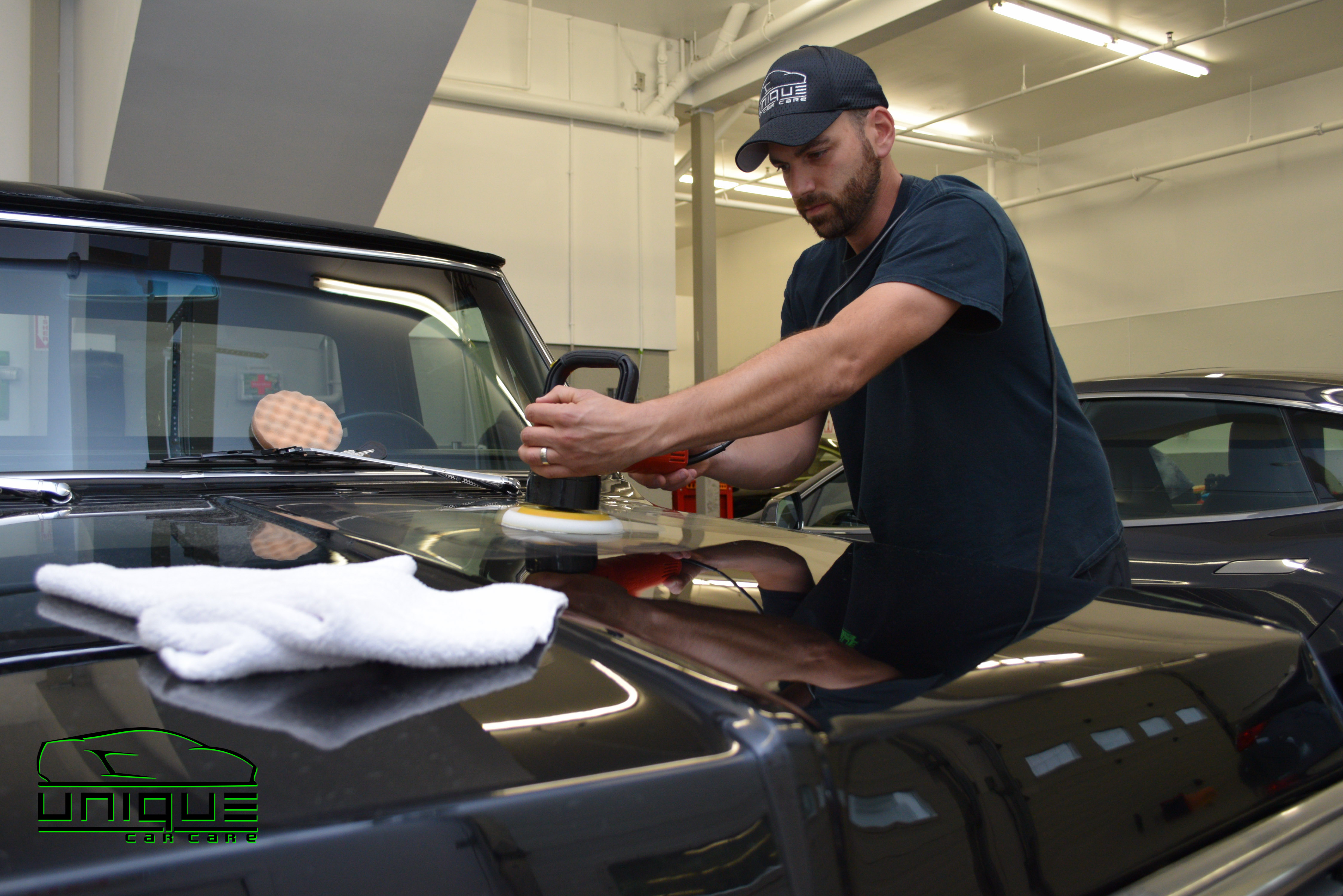 Our first step is to use a heavy cut compound with an aggressive pad that really cuts into the paint, removing all of the deep scratches and swirls.
This step levels the paint very well but due to the aggressive nature of the combination of pad and product it leaves behind a haze that needs to be taken out with a less abrasive combination.
After the compounding step, which creates a lot of dust, we wash the car one more time to clean away any left over compound and prepare the truck for the final two steps of correction; each finer than the last.
Paints can be made from different chemicals or formulas and they all react differently so over the years we have tested and learned which combination of products work best with each type of paint. On this restored vehicle though a bit of testing was needed to dial in the right combination to give us the result we were looking for.
Using a softer foam pad and a less aggressive polish we worked the haze and small pad marks out of the paint that are always left behind from compounding.
To further enhance the gloss and shine since this truck was painted a solid black, the hardest color to perfectly correct, we followed up with a third and final correction step. This final polish is very fine and paired with a very soft pad the lightest hazing is removed. The paintwork is left with a perfect finish and a superior slickness.
Once the truck was finished being corrected we prepped the truck one last time removing any oils left behind from the polish and applied a six month sealant to protect the finish and further enhance the gloss.
The final result was a mirror like finish reflecting the surroundings outside in the sunlight. The paintwork had been completely refinished and it looked better than new!
If you have any questions, we'd be happy to tell you more about the Paint Correction, go over detail options and discuss pricing. Please don't hesitate to contact us. We are available by phone or email to help any way we can.